Looking for total guest/client satisfaction?
See how IPTV Dubai can provide all of the following services in HIGH DEFINITION to multiple TV's across a hotel, Hospitals, Resorts, mining camp or Educational institutions, all via standard network cabling forming a Internet Protocol (IP) network.
Free-to-air broadcasts & Channels
Video on Demand services
In-house information channels
Digital Signage
Internet Access to guests (wired and wireless)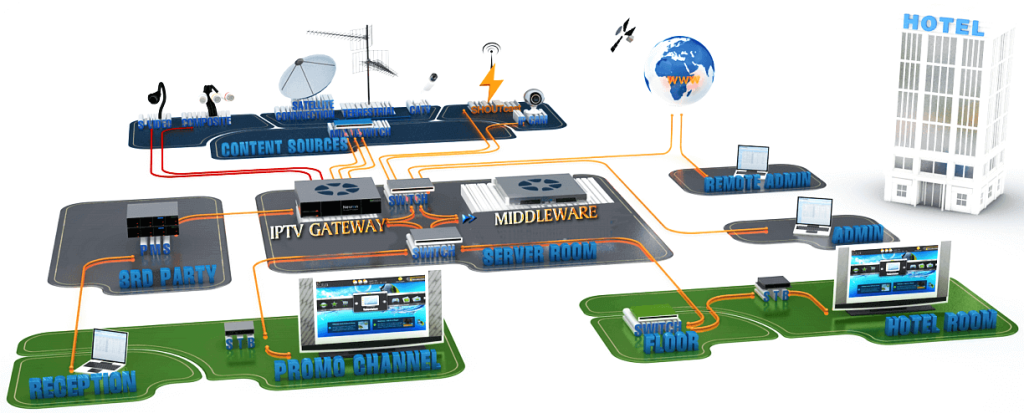 IPTV Systems are an Entertainment and services access solution made for the wide range of commercial sectors such as Hospitality, Medical, Education, and Corporate, whoever want to jump into the world-class status and give guests and occupants a  wonderful impression  of their  stay in  your facilities.  One of the great advantages is the quick deployment of the system, and  it runs  on set-top  boxes,  smart  TV's  and various mobile devices,  it is  the optimal  choice for  those who  value flexibility and want to offer a rich experience for your guests.  IPTV Dubai,  IPTV  solution comes  fully integrated  with various reservation, payment and maintenance systems.
The look and feel of the user interface impacts how  the guests  perceive information and  entertainment.  Our system user  interface is  fully customizable as  per the client branding guidelines.IPTV Dubai brings the hotel operator most flexible way to expand guests entertainment to the higher level, Combined with unprecedented up and cross-sell opportunities. Take advantage of IPTV Dubai End-to-End Hospitality IPTV System and upgrade your hotel, hospital, apartment complex or cruise ship.
Full HD live television channels.
Full HD over cable or Wifi connectivity.
Full HD to mobile devices and tablets.
Electronic program guide ( EPG)
Client servicing is at the core of our IPTV system, great set  of features  have been  created to enable the  hotel to automate comprehensive range  of services and  make them  visually engaging  to the guest  with great  benefits of  reducing calls traffic to  the reception  desk,  housekeeping Desk, and other service areas of the hotel.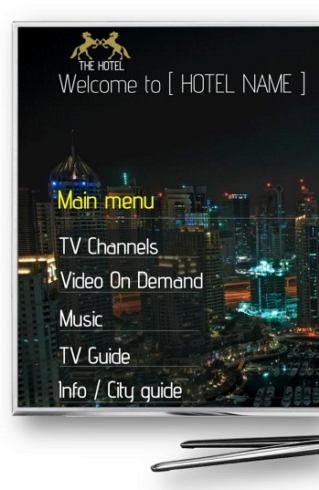 Our IPTV Services
With vast expertise in IPTV and integration technologies, we always offer a cost-effective and convenient solution. IPTV Dubai provides services in IPTV Design and deployment and helps you stay competitive in a changing hotel industry marketplace.Our services cover the network layer, middleware, integrate video subsystems and headend building.Our hospitality IPTV systems solutions meet the needs of different level of industries in the hospitality market.Such as Hotels IP TV,  Apartment Buildings IPTV, Hospital IPTV and Ship IPTV.
Digital Signage / Informative Display Solutions
Cut through the clutter and simplify your messaging with the sleek digital offerings of Datavox display solutions. Information can be dynamically displayed through video and sound, making the most of your message and your investment. Through user-friendly, web-based solution, you can instantly change admission prices, information alerts and last-minute promotions.Our display solutions are applicable for cafe, Education Institutions, Schools, Shopping Outlets and Malls.
Our Information display solution ENHANCE Campus Safety and ENCOURAGE School Spirit.Every school and university needs good communication to function effectively.Old-fashioned signs with changeable plastic letters are no longer practical. Both indoor and outdoor LED signs are more attractive, easier to read, 10+ year life cycle and are much brighter than LCD or plasma displays. Their brightness and animation are proven to attract attention and create awareness.By using this digital display solution in Dubai schools Or Education institutions are benefited by attaining the following.
Keep parents, teachers and students informed at all times
Increase awareness of upcoming events.
Inform everyone about safety alerts, weather warnings, and emergency instructions.
Announce schedule changes or class cancellations.
Promote student activities, sporting events, and student achievements.
Advertise school fairs and fundraising events.
Promote school activities throughout the campus and the community.